Investors in Families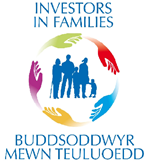 Investors in Families is an award we are proud to have completed and were re-accredited  in 2014. We were an original  pilot school in 2010. We strongly believe in the fundamental importance that families play in helping to shape and educate their children.  There are seven Core Aims that the school will be working on, trying to improve the parent/carer participation and involvement with school.  The school will make every effort to keep all parents involved and updated about all aspects of school life. A number of our Primary Feeder schools have also been accredited with this award.
The main aims of Investors in Families are:
To improve the life chances of every child.
To value and support the important role that families play in the life of the Child
To enable families to fully participate in raising their child's achievement and self-esteem
To promote social inclusion and a sense of well-being through positive participation in the child's education.
To encourage a whole school commitment to this way of working
To enable other schools to network and share good practice
The Award is currently being supported by the Wales Centre for Equity in Education. Please follow the link below for more information on this award.
Investors in Families believes in the importance of schools working with the child and its whole family so that the outcomes of Rights to Action are to be realised for all pupils. It is also likely that an investment in working in partnership with the whole family will bring dividends over time.
Professor Charles Desforges, on behalf of DfES in 2003, produced research into the effectiveness of parental involvement in their children's learning entitled 'The impact of parental involvement on pupil achievement'.
His findings are that:
there is a minimum dividend of 10% rise in achievement when parents complement at home what their children do in school, reinforcing that learning in fun and informal ways
at Key Stages Foundation, 1 and 2 the family has up to three times the impact compared with school on children's learning
motivation, attendance and behaviour also improve
others see that learning is important.
Investors in Families takes this as its starting point because it is only in partnership that schools and families can ensure that all children realise their potential in terms of learning and achievement as well as the development of self-esteem and becoming a fulfilled individual.
Investors in Families (IiF) also understands that schools are required to present evidence as part of the inspection regime and it offers schools a framework for demonstrating their success.
The 7 Core Aims in the context of Rights to Action are:
Flying Start Education
Training and learning opportunities
Best possible health and free from abuse victimisation and exploitation
Play, leisure, sporting and cultural activities
Being listened to, treated with respect and have race and cultural identity recognised
Safe community and home which supports physical and emotional well being
Not disadvantaged by poverty
These are the 7 'Standards' of the Investors in Families Award.