Wellbeing and Pastoral Organisation
Wellbeing and care is an aspect of schooling that acknowledges the importance of the student's perspective and the student's personal and social development. Pastoral care is not something imposed by central government but something that has developed in schools. It is clear that achievement at school is related to student's views of themselves, of their school and their schoolwork.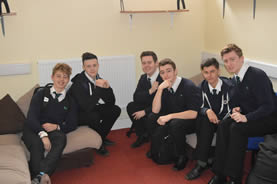 It is important to remember that every member of staff has a role to play with respect to the pastoral care of students. However the pastoral care system within the school must not be considered as a substitute for classroom organisation and discipline, but as a supportive agency instrumental in effecting the objectives set for students.
An acceptable programme of guidance both personal and vocational must be available for the children. Much is provided through the PSE programme but personal guidance is provided by the Form Tutor, the SENCo, the Heads of Year and Senior Staff. The LEA Specialist Services are also available.
Code of Conduct
Ferndale Community School is made up of students, staff and visitors.
All members of the school community are expected to show respect and care towards themselves and one another at all times.
All members of the school community are valued members of the team. Each and every individual plays an important role in helping the school run effectively.
Therefore, all members of the school team should;
act in a professional manner at all times
respect and tolerate one another when differences occur
accept responsibility for, and consequences of our action
be honest and reliable
work hard in order to achieve our best
be courteous and polite
respect the environment and keep our surroundings safe and clean
move sensibly around the school buildings and grounds
comply with and accept a professional standard of dress
ensure identity badges are worn at all times